Cowboys Receiving Calls On No. 10 Pick
April 20, 2021 9:51AM CDT
It's been quiet on the Cowboys trade front, but chatter is starting to pick up. During an appearance on 105.3 The Fan, Cowboys vice president Stephen Jones revealed that the team has started to receive hits on the No. 10 pick.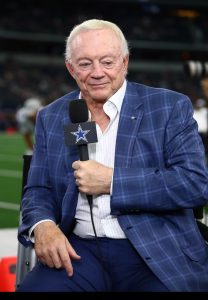 [RELATED: Dolphins Considering Trading Down Again]
"It's really just starting to pick up," Jones said (via Jon Machota of The Athletic on Twitter). "We're starting to get a few calls."
Teams are always sniffing around at deals in anticipation of the draft, so this tidbit of news isn't necessarily shocking nor telling. However, Dallas could see the pick become a hot commodity if any one of Mac Jones, Trey Lance, or Justin Fields falls to the 10th-overall pick. The Cowboys have mostly held on to their first-round picks in recent years; the last time the team moved back in the first round was 2013 (the team also traded their 2019 first-rounder in a 2018 trade for Amari Cooper).
Of course, the Cowboys could also just keep the draft pick and fill one of their key needs, whether it be cornerback, offensive tackle, or safety. We heard earlier this month that Jerry Jones was "infatuated" with tight end Kyle Pitts, but Dallas would surely need to make a trade up the draft in order to acquire the highly touted prospect.
---