San Antonio TV station helps local veteran get his vehicle back after it was towed from Southside laundromat
March 15, 2023 5:54AM CDT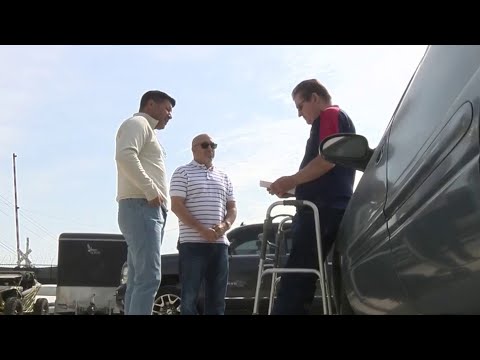 SAN ANTONIO (KTSA News) — A disabled veteran has been reunited with his vehicle after it was towed from the parking lot of a Southside laundromat, thanks to a local TV station.
KSAT 12 first reported on the story of 63 year old Patrick Winters last week.
Winters, who uses a walker to help him get around, had parked his vehicle in a handicap spot while he was doing his laundry.
But when he walked back outside, his truck was gone. Winters called police to report the vehicle had been stolen.
Turns out, it had been towed away by Bexar Creswell's Towing.
While Winter's license plates indicate he is a disabled veteran, but he wasn't aware the law had changed and a specialty placard is required to park in handicap designated parking spots.
Winters made some calls and wasn't satisfied with the lack of answers about his truck and he was stranded at the laundromat, so he reached out to KSAT for help.
The TV station reached out to the towing company and once they explained the situation, the company returned Winter's truck without charging any fees. They also apologized and threw in a new washer and dryer meaning the vet will no longer have to carry his clothes to the laundromat.
Bexar Creswell's Towing says their police is that they don't tow disabled veteran's vehicles but a new driver made a mistake.
Winters will also get the proper placard needed to park in handicap spots.
---